30th September, 2020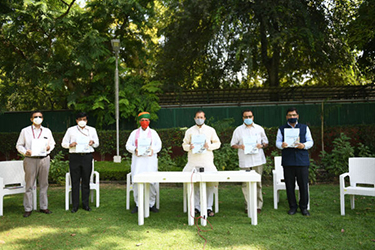 Shri Prakash Javadekar, Hon'ble Minister Environment, Forest & Climate Change, Information & Broadcasting and Heavy Industries & Public Enterprises released Standing Conference of Public Enterprises (SCOPE)'s compendium 'Building Self Reliant, Resurgent, Resilient India - PSEs Contribution Amidst COVID-19.' Shri Arjun Ram Meghwal , Minister of State for Parliamentary Affairs and Heavy Industries & Public Enterprises, Mr. Sailesh, Secretary, Department of Public Enterprises (DPE), Shri Atul Sobti, Director General SCOPE; Shri Rajesh K. Chaudhry, Additional Secretary, DPE; Shri Sanjay Kumar Jain, Joint Secretary, DPE were also present during the release.
The Compendium is a tribute to the tireless efforts of PSEs in combating the pandemic and ensuring economic needs even in the toughest times. Compendium shall be a good reference book and offer valuable insights into the relentless efforts of PSEs.
12th January, 2021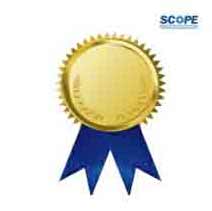 Honouring the unremitting efforts of Public Sector as nation builders and catalysts for social transformation in the country, Standing Conference of Public Sector Enterprises (SCOPE) haslaunched 'SCOPE Eminence Awards 2019-20.' These awards are part of SCOPE's commitment to honour the outstanding contribution of the Public Sector Enterprises (PSEs) and their leaders to the economy at large. Among the most coveted awards recognizing outstanding contribution in PSEs, SCOPE awards have been presented by Hon'ble President of India in the past.
Amidst the changing paradigms and global exposure of PSEs, SCOPE Eminence Awards will be presented in 9 categories having 16 specific awards in areas of Corporate Governance;Digital Transformation;Women empowerment;R&D, Technology Development & Innovation; HR;Environmental excellence; Corporate Social Responsibility and Individual Leadership.