Calling the Right to Information (RTI) Act a landmark legislation that has withstood the test of time, Mr. Y.K. Sinha, Chief Information Commissioner, CIC addressed Standing Conference of Public Enterprises (SCOPE)'s symposium on Right to Information Act. Mr. Atul Sobti, DG, SCOPE; Ms. B.K. Sokhey, Director (Finance), NBCC and Mr. O.P. Khorwal, Consultant, SCOPE also addressed the concluding session of the two-day program, which saw large participation of senior officials of various PSUs from across the country.
Mr. Y.K. Sinha said that the RTI Act has brought about a huge change empowering the common man and enunciated the need for proactive and effective grievance redressal mechanisms in PSUs. He further added that Public authorities must go for voluntary disclosure to expedite the process, file timely returns while sticking to guidelines to enable effective transparency audits.
Mr. Atul Sobti addressing the participants called RTI Act the cornerstone of corporate governance enabling efficiency and transparency in processes. He added that SCOPE with the support of Central Information Commission has been continuously organising symposiums and workshops on RTI Act for capacity building of PSEs.
Ms. B.K. Sokhey shared that the symposium encapsulated important aspects of RTI Act with regard to CPSEs which will be a great learning for the participants.

December 6, 2019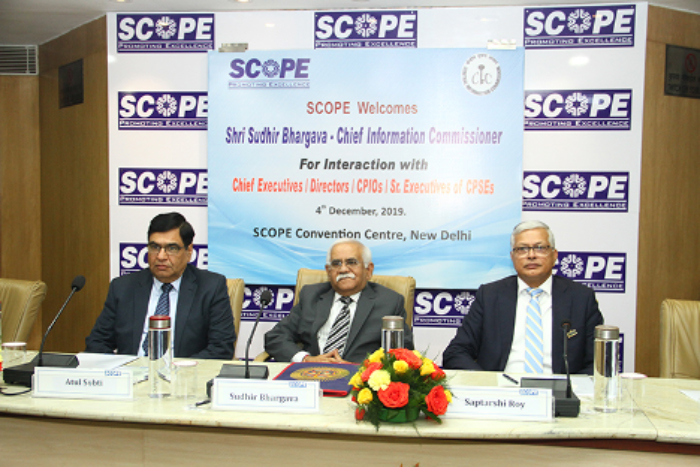 Chief Information Commissioner (CIC), Mr. Sudhir Bhargava interacted with the Chief and Senior Executives of Public Sector Enterprises (PSEs) on range of issues pertaining to recent provisions of the RTI Act and concerns in implementing the amended RTI Act. In his address to PSEs, CIC said that RTI is at the heart of Indian democracy and it facilitates people's participation in governance. Director General, Standing Conference of Public Enterprises (SCOPE), Mr. Atul Sobti also addressed the gathering. While appreciating the act as the most progressive legislation, Mr. Sobti pointed out that PSEs need a level playing field in the current volatile business environment.
Director (HR), NTPC and Member, SCOPE Executive Board, Mr. Saptarshi Roy; also presented his views on RTI Act. The interaction was organized by SCOPE which saw the presence of a large number of representations from 43 PSEs.