SCOPE focuses on Corporate Governance in PSEs as a logical extension of its concern for the development of PSEs and their governance. It organizes programmes to create awareness about Corporate Governance practices prevalent the world over in order to improve governance of PSEs. Its main emphasis is on greater professionalization of Boards of CPSEs with special focus on the role of Independent Directors. It has been organizing these programmes under the aegis of Department of Public Enterprises and in academic collaboration with the Academy of Corporate Governance with internationally reputed resource persons. SCOPE's inputs and recommendations have helped DPE to frame the Guidelines on Corporate Governance for all PSEs. SCOPE has been facilitating interaction and sharing of experiences of good practices in effective implementation of Corporate Social Responsibility guidelines.
27th January 2020


SCOPE Academy of Public Sector Enterprise (APSE) has commenced the Executive Development Program on the theme "The Career Journey to Personal Effectiveness and Leadership'' at SCOPE Minar, New Delhi. Mr. Atul Sobti, Director General, SCOPE (Standing Conference of Public Enterprises) inaugurated the program. Participants from 14 public sector enterprises are attending the program.
Mr. Sobti in his inaugural address informed that the long term vision of the SCOPE Academy is to create a talent pool and a PSE cadre of its own for better succession planning. He emphasized that corporate executives must understand current market and operational challenges and avail the emerging opportunities in transforming existing capabilities into competitive advantage in order to create value for their organizations.
DG, SCOPE said business organizations operating in the competitive environment have to devise and execute competitive strategies to survive and grow. This capacity is contingent on their ability to invest, develop and utilize human capital which is now widely regarded as the primary driver of organizational performance, Mr. Sobti added.
11th November 2019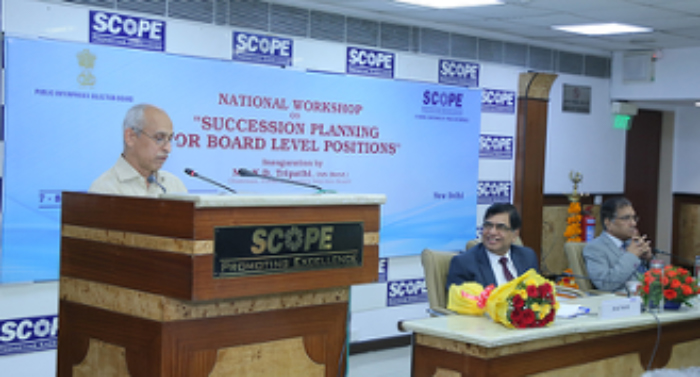 Standing Conference of Public Enterprises (SCOPE) organized a national workshop on 'Succession Planning for Board Level Positions' in Public Sector Enterprises (PSEs). Chairman, Public Enterprises Selection Board (PESB), Mr. K D Tripathi inaugurated the workshop in the presence of Mr. M.K. Gupta, Member, PESB and Mr. Atul Sobti, Director General, SCOPE. The workshop was organized to develop an appreciation of the Challenges and Opportunities inherent in the Board level appointments in Public Sector in a Globally Competitive & Complex Environment and enhancing understanding of the selection framework for Board Level positions.
Chairman, PESB while inaugurating the program said that the board is the most important part of an organization in order to meet its goal and objectives. Mr. Gupta while addressing the workshop said that integrity and over all competency are key for succession planning. Talking about future readiness, Mr. Sobti said that leadership readiness is the most important aspect of it.
The two-day workshop was addressed by eminent speakers and attended by senior level executives of PSEs.