SCOPE to promote apprenticeship in Public Sector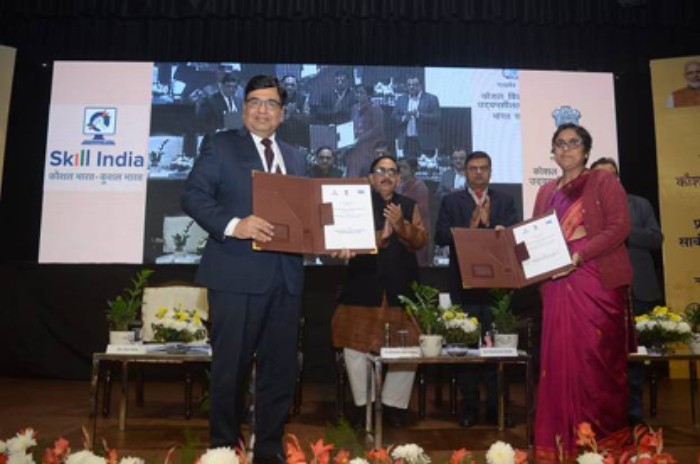 A joint declaration for Promotion & Expansion of apprenticeship in Public Sector Enterprises (PSEs) was signed and exchanged between Mr. Atul Sobti, Director General, Standing Conference of Public Enterprises (SCOPE) and Ms. Sunita Sanghi, Senior Adviser, Ministry of Skill Development & Entrepreneurship (MSDE) in the presence of Dr. Mahendra Nath Pandey, Hon'ble Minister, MSDE; Mr. R. K. Singh, Minister of State, MSDE & MoS (I/c), Ministry of Power; Dr. K.P. Krishnan, Secretary, MSDE and Mr. Sailesh, Secretary, Department of Public Enterprises (DPE). The joint declaration took place at a National Seminar held to spread awareness and participation in apprenticeship programme organized by MSDE in collaboration with SCOPE and DPE.
The aim of the declaration is to sensitize the benefits of National Apprenticeship Promotion Scheme (NAPS) amongst PSEs for active participation and engagement of apprentices. SCOPE and MSDE shall work together toward maximizing the benefit of apprenticeship and also help DPE in creating a database in this regard. The seminar was attended by a large number of senior government officials and delegates from PSEs.
SCOPE to actively promote the agenda of nation building- Hon'ble MoS, HI&PE and Parliamentary Affairs, Shri Arjun Ram Meghwal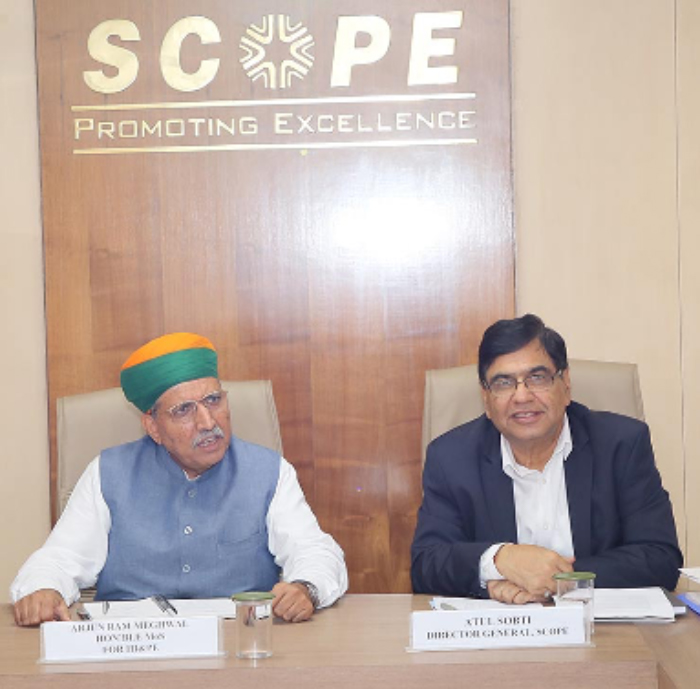 Hon'ble Minister of State for Heavy Industries & Public Enterprises and Parliamentary Affairs, Shri Arjun Ram Meghwal was welcomed by Shri Atul Sobti, Director General, Standing Conference of Public Enterprises (SCOPE) during his visit to SCOPE's headquarters at SCOPE Complex, New Delhi. Shri Sobti apprised him about SCOPE's activities, recent initiatives taken by it and the future plans.
The Hon'ble Minister was appreciative of the new initiatives being taken by SCOPE and advised SCOPE to play an active role in promoting the agenda of nation building and explore new areas of capacity building through corporate governance, environment protection, areas of social upliftment, Research & Development etc.
SCOPE welcomes fiscal measures by Government to boost Indian economy
SCOPE welcomes the announcement by Finance Minister to boost the Indian economy through various measures including reduction of Corporate tax rate and expanding list of CSR activities. Recent past has seen a series of progressive measures by government to ring positivity in the economy. SCOPE, the apex body of public sector enterprises, believes that the measure announced by the Government in terms of reduction in corporate tax rate is also likely to encourage investments in Make in India particularly in the manufacturing sector. This would lead to increased economic activity thereby creating employment opportunities.
Further, SCOPE appreciates the significant move of the Government to expand list of CSR activities to include incubation centres funded by various agencies/ governments including Public Sector Undertaking and also include contributions to public funded educational institutions like IITs, Universities etc. This is in line with the thrust of the Government towards innovation, research and development.