SCOPE –ILO study provides a very useful starting point for Guidelines and policy on WfH: Ms. Anuradha Prasad, Special Secretary, MoLE
Standing Conference of Public Enterprises (SCOPE) & International Labour Organization (ILO), Geneva released a comprehensive study on 'Impact of Work from Home' (WfH) on Women Executives and Managers in Public Sector Enterprises (PSEs) in India with Guidelines for a Gender Sensitive WfH Policy in PSEs.  The report was released virtually in the presence of Ms. Anuradha Prasad, Special Secretary, Ministry of Labour & Employment; Ms. Dagmar Walter, Country Director, ILO; Ms. Soma Mondal, Chairman, SAIL and Chairperson, SCOPE; Mr. Atul Sobti, Director General, SCOPE; Mr. Ranjan Mohapatra, Chairperson, Director (HR), IOCL & Chairperson, SCOPE HR Committee and Ms. Sanchir Tugschimeg, Senior Advisor, ILO, Geneva. Dr. Malika Basu, Consultant, ILO gave a presentation of the report. The launch was attended by about 366 participants.
On the occasion, Ms. Anuradha Prasad complimented SCOPE-ILO on undertaking the study on a very topical subject. She further shared that while the Govt. has notified Draft Model Standing Order 2020 under the Industrial Relations Code for Service Sector in which specific provisions have been made for Work from Home(WfH) subject to specified conditions and as detailed guidelines need to be evolved, SCOPE –ILO study provides a very useful starting point for such guidelines and policy.
Ms. Dagmar Walter stated that the study is a landmark moment in SCOPE- ILO association and has reiterated the need for creation of an inclusive workplace to upsurge women participation in workforce.
Calling it a proud moment for SCOPE, Ms. Soma Mondal said that PSEs have time and again instantaneously responded to the transformations at workplace and the pandemic was no exception. She added that the report gives an optimised insight into how women workforce are managing this new normal.
Mr. Atul Sobti stated that this is a path breaking study where highest number of public sector women employees participated. He added that the report is an important step towards developing Gender inclusive work policy in PSEs that facilitates equal opportunities to women workforce. He called for creation of better opportunities to encourage more women at work and also advised senior management to gain insight from the Study and Guidelines launched.
Ms. Sanchir Tugschimeg commended the active and consistent effort of SCOPE and ILO encouraging deeper insights into this new reality at work.
Mr. Ranjan Mohapatra said that PSEs may circulate and look at active adoption of the guidelines customised to their organisational needs s WfH is a perennial reality today.
As the pandemic has been catalyst in adopting WfH arrangement, the SCOPE ILO study offers detailed insights about advantages and challenges of WfH after administering surveys including key informant interviews (KIIs) and one-on-one interviews with Senior Management including CMDs, Heads of HR and other executives. A record number of 1969 women executives in PSEs were interviewed to reckon the ground reality of the situation. The report also proposes a set of recommendations streamlined into guidelines for gender sensitive work from home policy in PSEs.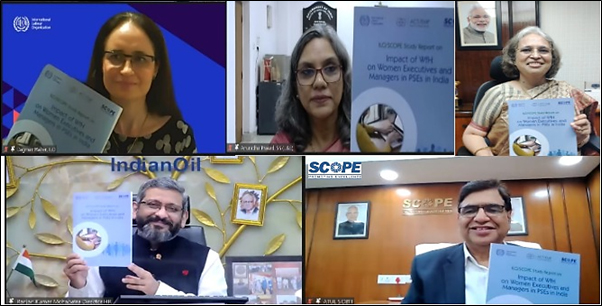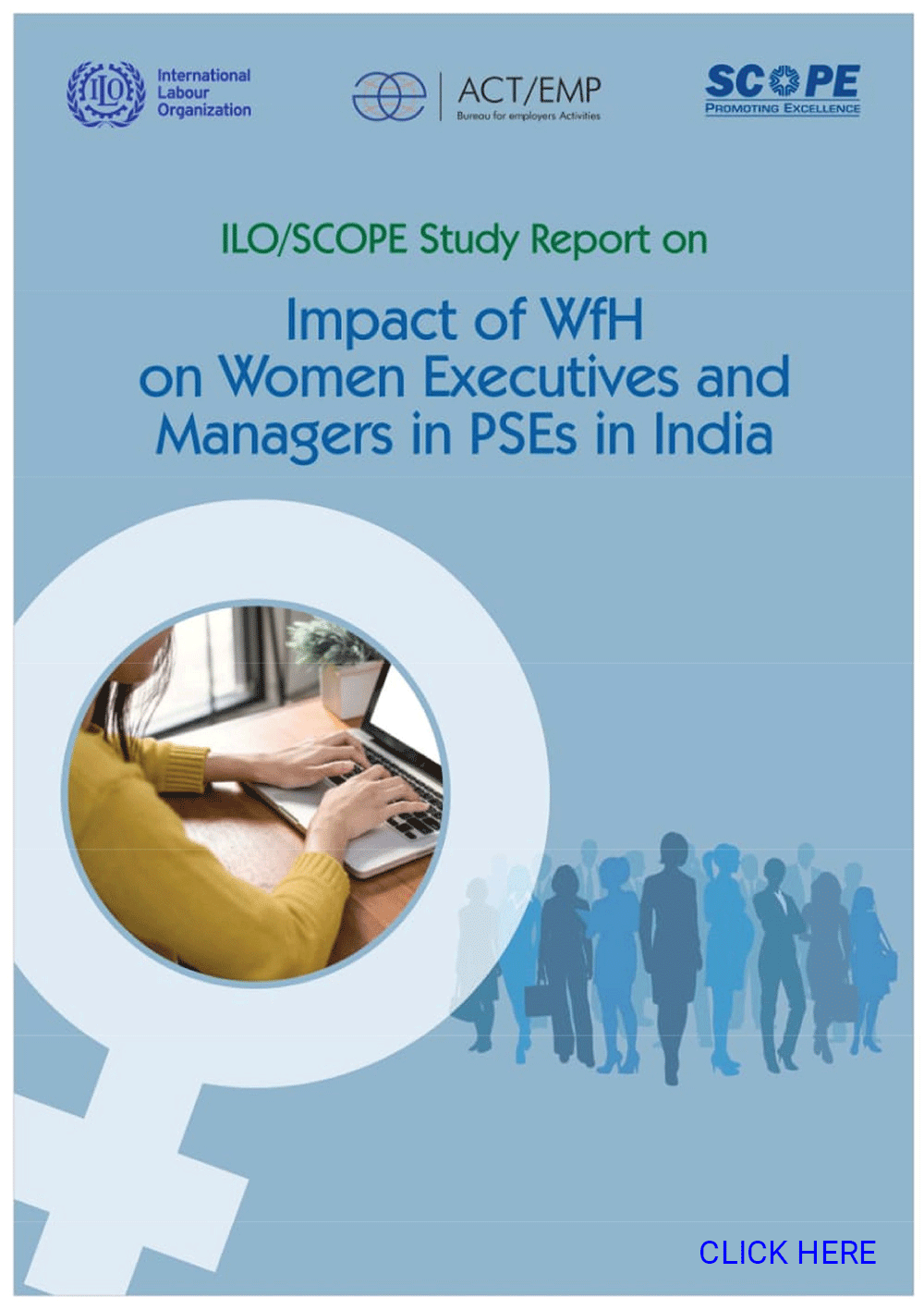 Calling the Right to Information (RTI) Act a landmark legislation that has withstood the test of time, Mr. Y.K. Sinha, Chief Information Commissioner, CIC addressed Standing Conference of Public Enterprises (SCOPE)'s symposium on Right to Information Act. Mr. Atul Sobti, DG, SCOPE; Ms. B.K. Sokhey, Director (Finance), NBCC and Mr. O.P. Khorwal, Consultant, SCOPE also addressed the concluding session of the two-day program, which saw large participation of senior officials of various PSUs from across the country.
Mr. Y.K. Sinha said that the RTI Act has brought about a huge change empowering the common man and enunciated the need for proactive and effective grievance redressal mechanisms in PSUs. He further added that Public authorities must go for voluntary disclosure to expedite the process, file timely returns while sticking to guidelines to enable effective transparency audits.
Mr. Atul Sobti addressing the participants called RTI Act the cornerstone of corporate governance enabling efficiency and transparency in processes. He added that SCOPE with the support of Central Information Commission has been continuously organising symposiums and workshops on RTI Act for capacity building of PSEs.
Ms. B.K. Sokhey shared that the symposium encapsulated important aspects of RTI Act with regard to CPSEs which will be a great learning for the participants.

SCOPE to promote apprenticeship in Public Sector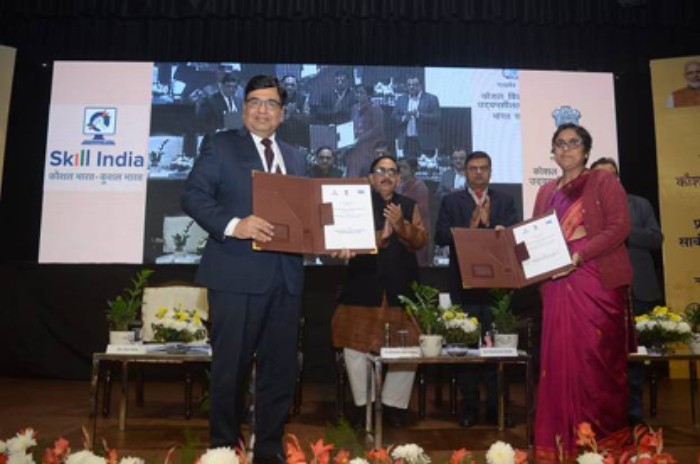 A joint declaration for Promotion & Expansion of apprenticeship in Public Sector Enterprises (PSEs) was signed and exchanged between Mr. Atul Sobti, Director General, Standing Conference of Public Enterprises (SCOPE) and Ms. Sunita Sanghi, Senior Adviser, Ministry of Skill Development & Entrepreneurship (MSDE) in the presence of Dr. Mahendra Nath Pandey, Hon'ble Minister, MSDE; Mr. R. K. Singh, Minister of State, MSDE & MoS (I/c), Ministry of Power; Dr. K.P. Krishnan, Secretary, MSDE and Mr. Sailesh, Secretary, Department of Public Enterprises (DPE). The joint declaration took place at a National Seminar held to spread awareness and participation in apprenticeship programme organized by MSDE in collaboration with SCOPE and DPE.
The aim of the declaration is to sensitize the benefits of National Apprenticeship Promotion Scheme (NAPS) amongst PSEs for active participation and engagement of apprentices. SCOPE and MSDE shall work together toward maximizing the benefit of apprenticeship and also help DPE in creating a database in this regard. The seminar was attended by a large number of senior government officials and delegates from PSEs.
SCOPE to actively promote the agenda of nation building- Hon'ble MoS, HI&PE and Parliamentary Affairs, Shri Arjun Ram Meghwal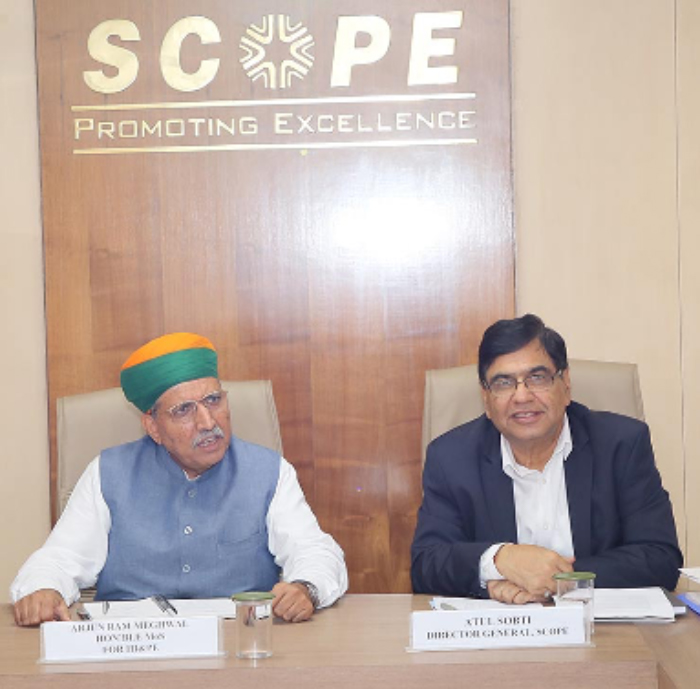 Hon'ble Minister of State for Heavy Industries & Public Enterprises and Parliamentary Affairs, Shri Arjun Ram Meghwal was welcomed by Shri Atul Sobti, Director General, Standing Conference of Public Enterprises (SCOPE) during his visit to SCOPE's headquarters at SCOPE Complex, New Delhi. Shri Sobti apprised him about SCOPE's activities, recent initiatives taken by it and the future plans.
The Hon'ble Minister was appreciative of the new initiatives being taken by SCOPE and advised SCOPE to play an active role in promoting the agenda of nation building and explore new areas of capacity building through corporate governance, environment protection, areas of social upliftment, Research & Development etc.
SCOPE welcomes fiscal measures by Government to boost Indian economy
SCOPE welcomes the announcement by Finance Minister to boost the Indian economy through various measures including reduction of Corporate tax rate and expanding list of CSR activities. Recent past has seen a series of progressive measures by government to ring positivity in the economy. SCOPE, the apex body of public sector enterprises, believes that the measure announced by the Government in terms of reduction in corporate tax rate is also likely to encourage investments in Make in India particularly in the manufacturing sector. This would lead to increased economic activity thereby creating employment opportunities.
Further, SCOPE appreciates the significant move of the Government to expand list of CSR activities to include incubation centres funded by various agencies/ governments including Public Sector Undertaking and also include contributions to public funded educational institutions like IITs, Universities etc. This is in line with the thrust of the Government towards innovation, research and development.