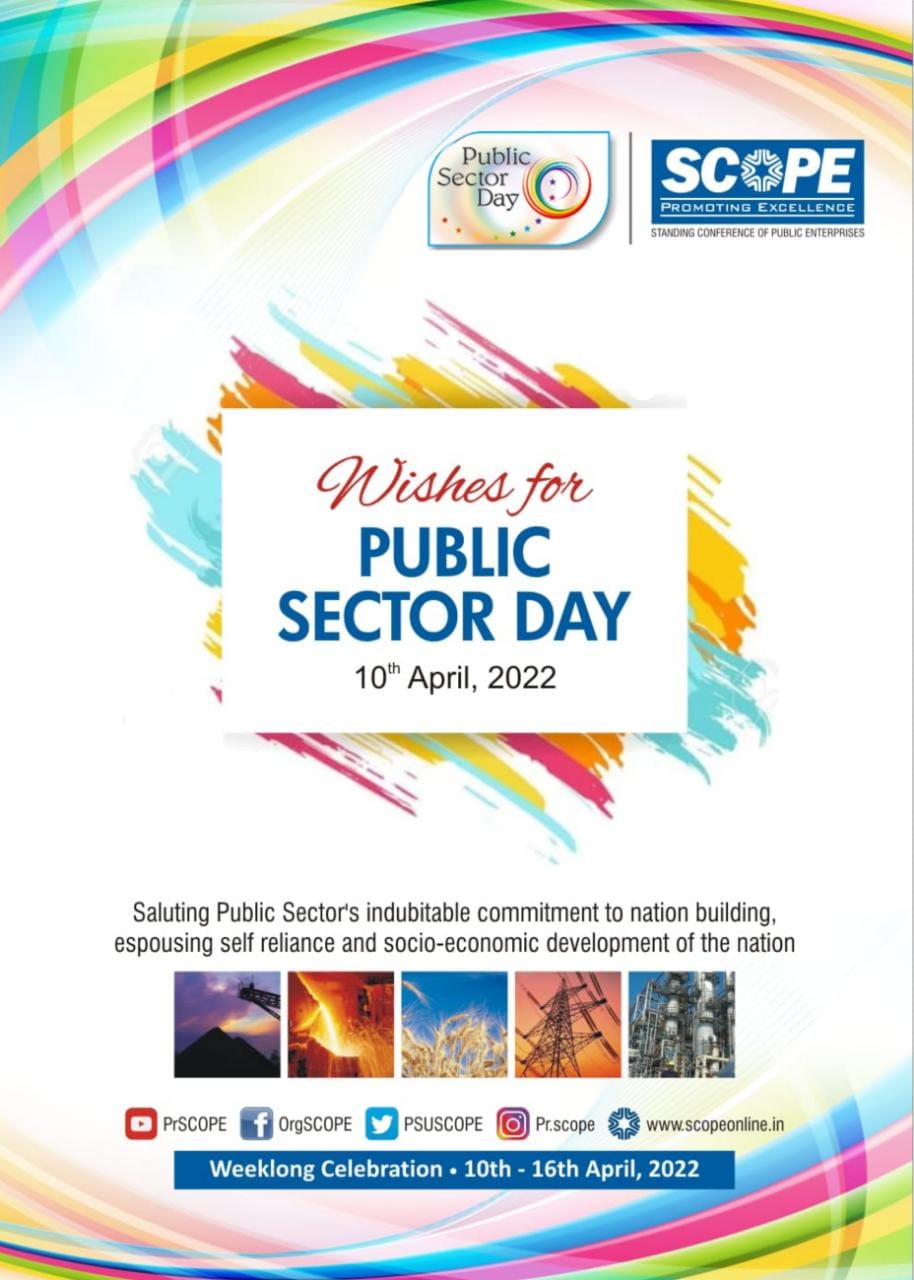 Standing Conference of Public Enterprises (SCOPE), the apex organization of Public Sector Enterprises (PSEs), in the year 2010 took a grand initiative by earmarking 10th April as 'Public Sector Day' exemplifying the enormous and historic contribution of Public Sector to the national economy over six decades. Considering the significant contributions made by Public Sector Enterprises to the national economy and with the mission to create awareness among the public at large about the notable achievements, performance and role played by them, SCOPE decided to observe 10th day of April as Public Sector Day every year.
The initiative of SCOPE to organize Public Sector Day has received overwhelming response from Government and great support from the Public Sector fraternity. The Public Sector Day, which is one of the most prestigious events of SCOPE, providing an opportunity to recapture the glorious history, achievements and remarkable contributions of PSEs in our country. SCOPE Meritorious Awards were given by President of India on this occasion which have now been subsumed to SCOPE Eminence Awards.
The first Public Sector Day was celebrated on 10th April, 2010 with great fervor. The former President of India, Smt. Pratibha Devisingh Patil graced the occasion. Another glorious moment in the history of PSEs and SCOPE was the unfurling of Public Sector Flag during the 2nd Public Sector Day Celebration by the then President of India in 2011. The Flag represents the unified spirit and significant contribution of PSEs to national economy.
It has been a matter of pride that the initiative of SCOPE to celebrate Public Sector Day assumed significance over the years and has become a red letter day in the history of Public Sector Enterprises in India. PSEs across the country observe the Public Sector Day in their Head Offices, Regional Offices and their Plants/Units by organizing various programmes, interactive workshops to showcase the achievements, displaying banners, cultural programmes to rededicate themselves to the cause of Nation Building.