Labour
6th July, 2020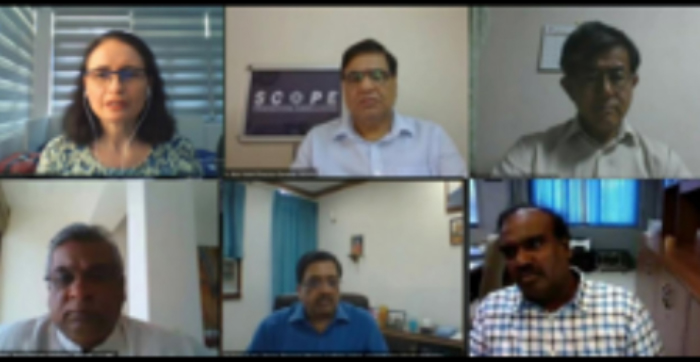 The quest for sustainable employment and creating a safe, equitable and dynamic workplace has accelerated amidst the ongoing pandemic. Offering insights into the same, Standing Conference of Public Enterprises (SCOPE) organized a webinar titled 'ILO's response to the pandemic - Learning and Sharing of Global Practices' in association with International Labour Organisation (ILO). Ms. Dagmar Walter, Director, ILO DWT South Asia; Mr. Atul Sobti, DG, SCOPE; Dr. R. K. Elangovan, DG FASLI, Ministry of Labour & Employment; Mr. Ravi Peiris, Senior Specialist, ILO; Mr. Tsuyoshi Kawakami, Senior Specialist, ILO and Dr. Sanjay Kumar, Director, Personnel, WCL addressed the meet. Nearly 500 participants including senior official from PSEs attended the webinar through SCOPE's various platforms.
Ms. Walter speaking about the global job scenario emphasised that the pandemic has affected both quality and quantity of jobs and measures taken to ensure worker protection, stimulate economic and labour demand; support employment and incomes and using social dialogue between government, workers and employers can only help overcome this crisis.
Mr. Sobti in his address said that the present scenario is one of the toughest faced by employers and so there is an inherent need for everyone to have an optimistic approach and ensure worker safety while adapting to the 'New Normal'. He also mentioned that SCOPE and ILO are working closely in bringing forth the issues related to labour and work.
Mr. Peiris highlighted the importance of survival and resilience through social dialogue between employers and employees and signified the ability of adapting to change as the biggest asset for any organisation. He suggested employers to not only focus on the future but also the present, in order to succeed.
Dr. Elangovan spoke about the need for detailed preparedness amidst the 'New Normal' and shared views on Pandemic Response Procedure that ensure safety and wellbeing of all stakeholders.
Mr. Kawakami spoke about ILO's guidelines with regard to securing health and safety at workplaces. Talking about causes of spread of the virus he gave practical tips like reducing human to human contact at workplaces and equipping workers with the appropriate equipment.
Dr. Kumar stated that the key take away from the webinar was to acquire learning's from the past and present to establish a futuristic organization.
3rd March, 2020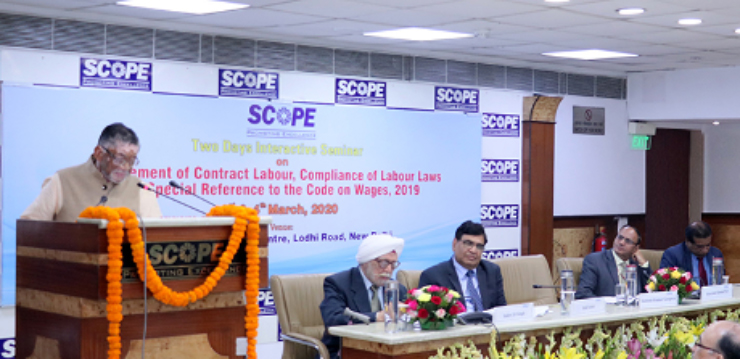 Standing Conference of Public Enterprises (SCOPE), an apex body of PSEs, organized a program on 'Management of Contract Labour, Compliance of Labour Laws with special reference to Code of Wages 2019'. Shri Santosh Kumar Gangwar, Hon'ble Minister of State (Independent Charge) for Labour & Employment inaugurated the program. Shri Heeralal Samaraiya, Secretary (L&E), Shri Atul Sobti, Director General, SCOPE, Shri Ravi Peiris, Senior Specialist, ILO and Shri Inderjit Singh, Former Chief Labour Commissioner also addressed the participants during the inaugural session.
In his inaugural address, Shri Gangwar spoke about the initiatives taken by the Government to simplify and transform labour laws in the country. He emphasized that not seeing labour as a commodity will result in reduction of labour disputes and enhance economic growth and better working conditions in the country.
Shri Samaraiya spoke about the need for safeguarding workers in the country. He added that simplified labour laws will enable right to minimum wages, timely payment and social security to majority of the working population of the country.
Shri Sobti said various reforms, policy initiatives taken by the government has led to India's improved ease of doing business ranking to 63 from 114 for the year 2014. The ongoing labour reforms will further improve this ranking.
The program saw the presence of a large number of representatives from 32 PSEs.